How to Improve the Look of Your Business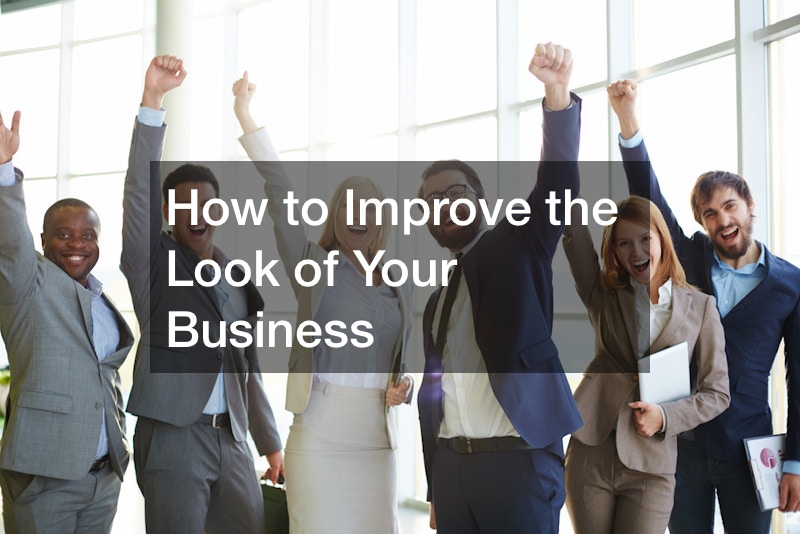 Being in the public eye is one of the main goals of every successful business. Keeping your brand relevant will draw new clients and increase your sales. Although keeping your business name in the public eye can be complicated, you can improve the look of your business and build a new reputation with a renovated appearance.
To enhance your business image and attract new clients, you should improve the look of your business by following these tips.
Replace the Roof
Your business roof says a lot about your brand and services. Iconic roofing can bring a sense of style and professionalism to an establishment. Consider the representative roof design of McDonald's and other iconic brands, and notice how curb appeal is critical in attracting customers. If you struggle to keep your roof in good condition, you can always hire roofing services and enhance your roof's appearance. Moreover, an establishment's roof should be clean and presentable for customers to improve its appearance and reputation.
A layer of fresh paint and fixing all the minor holes can enhance your roof and give your establishment a new, elegant look. Updating your curb appeal is more than an aesthetic decision, as most clients prefer to visit a well-kept establishment that doesn't neglect their image. If you want to be creative and improve the look of your business, you can do a roof makeover and add a new, unique design to your establishment. Add an extravagant roof design that can be recognizable from miles away. Although a complete roof makeover can be expensive and needs time to plan and execute, it can be a critical investment.
Do Some Landscaping
Have you ever visited those high-quality restaurants and establishments with eye-catching gardens and lush green trees? Those outstanding gardens add something unique and remarkable to these establishments. If you want to improve the look of your business, you should pay attention to your landscaping project. Adding new decorative elements and eye-catching plants will make your customers know how much you care about your business image. Moreover, hiring landscapers to start a unique project in your establishment can bring a new sense of uniqueness and appeal to your business.
Whether you keep everything stylish and classic with a simplistic garden or want to spice your landscaping theme with new decorative elements, you must improve your establishments outdoors to bring new customers. Having perfect control of your business aesthetics is crucial to pushing your brand. A stylish and pleasing landscaping project can improve how customers see your brand and products. However, the impact of your landscaping project depends on how much budget you'll be willing to spend. A reduced investment can enhance your plants and revigorate your bushes and trees. However, a formidable budget can add new establishment-themed decorations and other eye-catching projects to attract new clients.
Go for a Full Remodel
One of the most damaging moments for a business is being outdated to its competition. If you feel you are stalling and being an obsolete choice for most modern clients, you should update your business image and use a new concept. To improve the appearance of your business, you need to be on the radar and modernize your surroundings and service. Replace that old-fashioned logo and spice things up with a rebranded image. Customer appeal relies on being the most modern establishment in town. Don't hesitate to take a complete remodel project and update every inch of your business.
A complete remodel project isn't something to take lightly. It's a complicated, expensive project that can drain your bank account and paralyze your business for months. However, the drawback is worth the risk, as you'll modernize your surroundings and update your image. To accomplish a perfect remodel project, you'll need the help of remodeling contractors and certified builders who can follow your instructions and work fast and efficiently. Lastly, hire graphic designers and architects to see how to improve your business design and learn how to make it more appealing to the average customer.
Inspect for Mold
Mold is one of the worst enemies of a business, as it can jeopardize your operations and damage your brand's image. Mold is everywhere, from commercial establishments to ordinary homes. It's almost impossible to escape from mold spores, and it's common to see mold in restaurants and other food establishments. However, finding mold in a restaurant damages its reputation and compromises its service. A clean and respectable establishment doesn't have mold, as they discard their suspicions by hiring a mold inspection service. If you suspect an exterior element is damaging or interfering with your business, you should act fast and call a professional.
Mold can be hidden in your walls or ceiling, compromising the air quality and the room's moisture. Moreover, moisture issues can help mold growth in your establishments. By hiring a professional mold inspection service, you can localize any moisture problems within a room in your establishment, preventing future fungi problems and avoiding dealing with mold. A reliable and respectable business doesn't possess mold or other exterior agents within its walls. Don't hesitate to improve your business image and discard any trace of a possible mold problem.
Restore Your Masonry
A brick-patterned business gives a sense of tradition and culture to its customers. Most vintage businesses have an iconic brick layer on their outdoors to symbolize their quality, all-national services. However, most establishments forget how easily a brick wall can deteriorate over time. As stated earlier, your business's curb appeal is crucial for attracting new customers. Moreover, your masonry should be in good condition to captivate new clients with your products and services. The best way to enhance your surroundings is by hiring a brick restoration service that gives your masonry a second life.
Repair, clean, and insulate your masonry to promote a fresh look in your outdoors. Most clients will pass through your establishment and feel the trust to pass and enjoy your services, thanks to the pristine, clear state of your outdoors. Your business image is crucial for bringing in new customers while promoting your services. Improve the appearance of your business by improving your masonry and making your clients know about the classic, all-American establishment's appearance. Lastly, improving your masonry is a great way to enhance your business renovation project and discard previous masonry damage and unremovable stains.
Add Windows
There was a time when most businesses looked like a bunker, where natural light was scarce, and most customers had to deal with the feeling of being trapped. Luckily, modern establishments understand the claustrophobic issues regarding older businesses that didn't have windows and glass doors. Nowadays, most clients enjoy shopping or going to eat and sitting alongside a window to watch the scenery. If you want to modernize and improve the look of your business, you must start a window installation project in your establishments. Let the sunlight inside your business and let your customers feel the freedom of shopping in a modern establishment.
Windows is more than a simple addition to make your business look modern. Natural light can help you save energy expenses by being a reliable light source. Moreover, you can control the light exposure of windows by adding blinds and other add-ons. The choices are endless by adding windows to your establishment and re-enforcing the modern look that most successful establishments follow.
Repave Your Parking Lot
Drive-thru's and parking lots are crucial selling points for most modern establishments, especially those in the food industry. The average customer doesn't have enough time to sit inside a restaurant and eat lunch, as they have other priorities in their spare time. Moreover, most restaurants understand the necessities of the average customer and offer a quick and reliable drive-thru service to maximize time and sales. However, if you have a damaged driveway with holes and cracks, it might give your establishment a sketchy, unreliable look. Don't let a minor inconvenience damage your business reputation, and improve your asphalt by hiring the best paving contractors in town.
You must enhance your parking lot to attract new customers if you have a department store or an establishment unrelated to the food industry. Add a new painting and asphalt layer to your business and let your clients know you care about their well-being. Paving contractors are an affordable service that won't damage your bank account and will promote your business image.
Repair Your Fence
Safety should be one of your priorities when you improve the appearance of your business. Protect your clients and personnel from outdoor damage or intruders by reinforcing safety measures and enhancing your establishment's fence. Although commercial fencing isn't a common subject when discussing safety measures, it does protect your business from intruders while adding an eye-catching design to your outdoors. An efficient commercial fence can add privacy to your establishment while adding something new to your landscaping project.
An iconic fence can be a staple for your establishment, as it is one of the first elements most customers see in a business. Be unique and add something special to your commercial fence. Add the business logo or a wacky design that can captivate those who pass by. A commercial fencing service is more than a protective option. It's a way to demonstrate the professionalism and compromise you have with your establishment.
Get New Floors
Cleaning and mopping an old floor won't do anything to enhance your business image. If you want to improve the look of your business, you need to take a step further and replace your flooring with the latest and trendiest options. Whether you want an elegant look and go with marble flooring or classical and rustic hardwood flooring, replacing your floor should be one of your first decisions when renovating your establishment. New flooring symbolizes the new beginning of your business, and most clients will notice it as soon as they cross the entrance door.
Dirty and unappealing flooring shows how little interest the business owner has in their establishment. Moreover, most clients prefer to visit the latest and most respectable establishments around their area while avoiding unappealing and outdated businesses. Moreover, most flooring cracks due to the weight and constant impact that suffers from daily operations. If you want to evade future flooring expenses, choose durable, high-resistant flooring that can withstand for years while looking brand new.
Add a Fresh Coat of Paint
Adding a fresh painting layer to your business outdoors is the best way to improve the look of your business without damaging your pocket. Make your establishment's colors vibrant and captivating to your customers while reinforcing the theme and appeal of your business. Hiring an outdoor and interior painting service isn't as expensive as other renovating projects and will enhance your business image like any other project. If you plan to rebrand your establishment and add a new concept, you can express it using the right paint color.
Nothing symbolizes a fresh start better than a change of color. If you want to innovate your image and start a new change for your business, you can start by choosing the right painting. Play with the colors and find the best combination for your brand's appeal. Painting changes the mood of a business and adds something unique to each establishment. If you value your corporative image and asset, you should enhance your business color palette.
You'll need more than renovations and services to improve the look of your business. Branding is a crucial part of every establishment, and improving your brand with new tactics and modernizing your operations will enhance your sales. However, if you plan on improving every inch and element of your business, you shouldn't neglect the aesthetic parts of your outdoors. Bring a fresh air of innovation and upgrade your operations by changing the feel of your establishment with a new renovation project.