10 Contracting Businesses That Make Good Money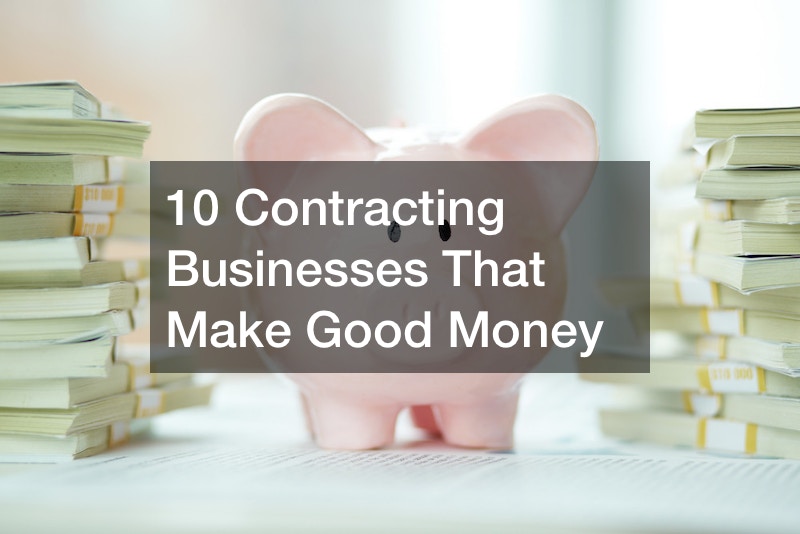 Are you looking for a new type of career? Perhaps you have grown tired of reporting to a boss and not being able to set your schedule. Working for other people isn't always easy, and you may consider becoming an independent contractor. For many of these jobs, you need skill and experience, but you can usually get started quickly and with little money to invest. Consider these ten money making contractor services before you make any decisions about the business you want to start.
Chimney Maintenance
When you think about money-making contractor services that you can start, many jobs come to mind. One of them could be chimney cleaning businesses. You don't need a specific license to start a chimney cleaning business. You just need to not mind getting dirty. You will need a general business license for a chimney cleaning business. That is true for most contractor businesses. There are certifications for those who wish to become chimney cleaners; however, they are not a requirement. It is always a good idea to have as many certifications as possible. This shows potential customers you are knowledgeable about your craft and are continuing your education in chimney cleaning.
While cleaning a chimney, you use special brushes and rods to remove the soot, buildup, and any blockages in the fireplace, chimney liner, chimney cap, and inside the chimney itself. You will also clean the firebox, damper, smoke shelf, and smoke chamber. In addition to cleaning, you can examine and inspect the chimney to ensure the structure is sound and it's in good working order. You can also make repairs such as installing caps or dampers, fixing the flashing, or removing anything that shouldn't be in the chimney.
Tree Removal
Tree removal services is another one of the top money making contractor services to consider. While homeowners may not realize your service's importance to them until they need it, it is essential. A tree service business can remove and install trees, or you could pick one or the other. These services can be provided to residences or businesses. You can also provide maintenance services that happen on a regular basis. This includes pruning and trimming. In addition, you can provide emergency services to remove fallen trees, fallen branches, whole trees, and tree stumps. You will also remove tree roots.
As a tree removal business, it is important that you remain current with regulations and local codes. You are also responsible for assessing the job that must be performed and estimating accurately. If you underestimate, you can lose money. If you overestimate, you can lose business. It is essential to be spot-on with your estimates. You are responsible for registering your business with all the appropriate local and state agencies.
Septic Maintenance
When you are thinking about money making contractor services, septic system services comes to mind as a top job to make money. You should also realize that this job is dirty and hard work. You will work in areas where there is no sewer system, and homeowners have installed their own waste and septic system. These systems must be pumped out and cleaned, and the waste disposed of properly. During the clean-out process, you also clean the inside of the tank.
To clean out septic tanks, you need a large truck with a hose attached to it. You lower the hose into the septic system, which pumps the waste out of the tank into the container on the truck. You then haul it away and dispose of it. The machine has gauges, dials, and indicators to alert you about its status of it. You must be able to monitor, read, and adjust the machine, so it continues to function properly. You also have to troubleshoot the septic system while cleaning it. If there are problems with the system, you have to be able to diagnose and fix them.
Home Construction
When you are deciding which money making contractor services you want to start, you have to determine what strengths you have. As long as there are homeowners, there will always be a need for home construction services. Many homeowners don't have the skill, knowledge, or time to make home upgrades, repairs, or additions. For this reason, home addition construction services are a great way to make money. The number of employees you have may drive the number of jobs you can take. However, there is good money to be made with smaller-sized jobs. This could include but isn't limited to painting the interior of houses or adding a patio or deck. You could take on larger jobs, including remodeling a kitchen or bathroom. Finally, you can take on a larger job, like a basement addition, if you would like them.
A home construction contractor must be able to listen to customers and understand what they want. You can make suggestions and provide advice based on your knowledge and expertise. You must estimate how much the job will cost, how long it will take, and what supplies you need. You also have to plan for the unexpected. It's rare for a job to work out exactly the way you plan. You have to be prepared for those changes and have a plan in place.
Water Heater Maintenance
Many homeowners don't realize the importance of water heaters until something goes wrong with them. This makes them one of the most forgotten-about appliances in a house and makes this one of the top money making contractor services. Typically plumbers or those experienced with plumbing work address maintenance, installation, and repair of water heaters. While performing regular maintenance, you will perform checks and adjustments to the system, flush it and replace parts like the anode rod. Water heater repair service and maintenance allow the water heater to work efficiently, perform better, and potentially reduce utility bills.
When performing regular maintenance on water heaters reduces the risk of them failing and causing more expensive repairs or replacements. During regular maintenance, you will remove dirt and rust to help reduce any potential damage. However, you will also assess the unit to determine if you can maintain and repair it or if it needs to be replaced. If units require replacement, you will perform that task, also. You provide knowledgeable advice to customers and make recommendations on replacements.
Paving Services
When you are thinking about money making contractor services you can provide to customers, don't forget about driveway paving services. As a paving contractor, you are hired to install asphalt or concrete driveways and walkways at homes, offices, or other properties. You can also repave existing driveways that have been worn down over time, use, or weather. In this role, you will assess the area that needs paving work and provide an estimate to customers. During this process, you should outline the work that needs to be completed, all the materials you need, how long it will take, and the cost.
There are many steps involved in providing paving services. You must excavate the ground to create a clear path for the paved area. Not only does this mean clearing the ground, but also any bushes, trees, stumps, or anything else that is in the way. The surface must be level so that the asphalt is level ground. You also must ensure that there is proper drainage, so water doesn't collect or back up in the area. You must also allow proper time for curing and alert the customer of this process. You should also recommend the proper sealant for the customer.
Roofers
When considering the best money making contractor services you can provide to customers, roofing should be at the top of the list. There are many ways to make money with roofing. You can provide inspections that include a comprehensive evaluation of the roof. You must climb on top of the roof and examine the gutters, soffit, chimney, shingles, and fascia. The customer is expecting you to inform them about the state of their roof and advise them on what steps they should consider taking. Other job functions of roofing contractors include making repairs to roofs, replacing existing roofs, or installing roofs on a new structure.
There are some requirements for you if you plan to be a roofer. You will need to climb ladders and get on top of roofs. While some roofs are low, most of the time, you will be high off the ground. You can run a large roofing company and have enough employees that you don't have to climb the roof yourself. However, that is unlikely when you are just starting a business.
Welding
When you are thinking about the long list of money making contractor services, you may be considering becoming a welding contractor. If you plan to start a welding business, you should be aware that you will repair, restore, and assist in building items that are based on metal. Some of your services include aluminum welding, metal fabrication, flux core welding, and much more. There are many types of jobs you can take on as a welding contractor, including restaurant equipment repair, aircraft repair and remanufacturing, and marine equipment fabrication. You can also work on farm equipment or in welding shops. Basically, anywhere there is metal, there could be a job for you to do.
In this job, there are many actions you will perform. This includes understanding the local laws and requirements. You will provide machine maintenance and must stay on top of changing regulations and new processes. You should be able to read blueprints and understand how to use the equipment. You also need to have a background in metallurgy.
Plumbing
Running a plumbing company is another job on the top money-making contractor services list. The purpose of a plumber is to ensure that the sewer and potable water pipes are up to local code and maintained. As a plumber, you can work in residential homes or businesses. You can provide work during regular work hours, but you will find that emergency services are often needed. Your duties include examining and assessing plumbing lines. You will fix and maintain them as well. Depending on your specific interests, you may work on designing and installing new plumbing systems.
You will work with clamps, bolts, cement, caulk, and couplings. You will assemble sections of pipe and use welding and soldering equipment. In the plumbing business, you cannot just start out on your own as a plumber. You must have worked as an apprentice with an established and professional plumber. This ensures you have learned and gained experience with the plumbing skills you need to know.
Extermination Services
Every house and business has some experience with pests at some point. The high instance of bugs and rodents entering homes and businesses puts exterminators high on the list of money making contractor services you can provide. Your goal is to eliminate the presence of pests with treatments. You will assess the perimeter of the exterior and interior of the building. You may have to crawl into areas under the house or attics to find where the pests live.
Not only does an exterminator remove the pest instance, but it also provides maintenance, so the pests don't return. You can also offer regular maintenance throughout the year as a preventative measure. While it seems that every household and business can benefit from the regular services of an exterminator, they may not all think that. This means you may spend substantial time marketing your business to potential customers.
You will find as you are thinking about the different services you can offer to make money, there are many options. This guide provides ten contracting services where you can make a good amount of money. If you start with the options listed here, you will be in a good position to start your business.